The Suryadatta Institute of Management has organized and conducted an Industrial Visit to National Defence Academy (NDA)
The Suryadatta Institute of Management and Mass Communication (SIMMC) has organized and conducted an Industrial Visit to National Defence Academy (NDA), for MBA Semester I on Sunday, 17th September 2017. Total 85 students 77 from MBA Semester I.
The Cadet of NDA Mr. Piyush Borah accompanied us and guided us regarding visit in NDA campus. The National Defence Academy is an iconic institution, a global brand of excellence in the sphere of military education. Over the years it has emerged as a unique military academy, attracting the best of youth from our nation and also from friendly foreign countries and transforming them into officers and gentlemen. During the last six decades of its glorious existence, the National Defence Academy has grown both in grace and grandeur and from its portals have emerged 'leaders of men', who have demonstrated the essence of inter-services camaraderie and jointsmanship, thereby vindicating the faith and vision of its founding fathers. Apart from leaders of men, the alumni have proved to be great mountaineers, cosmonauts, sportsmen, researchers, creative writers, artists, corporate honchos and more recently, Olympic champions. Their achievements are all pervading and showcased in every echelon of Armed Forces and also in the civil society. The 'cradle' has indeed rocked the nascent youth and groomed them properly as 'leaders' who have lived up to its ethos: 'Seva Paramo Dharma' (Service Before Self). The information given by him was very much interactive and motivating. Students visited fligter plans, Sports grounds, Horse Stage, Cadet Mess, Sudan tower, Museum, Hostel, Gole Market etc.
---
Suryadatta's 250 MBA Students visited Army's Tank Museum at Ahmednagar
Suryadatta Group of Institutes,Pune, a name to be reckoned with, for management education, the institute ranked for consecutive 12 years among top 50 and A+ grade B schools, organized a study tour for its management (MBA) students, to Ahmednagar. As an inseparable part of the Edu – Socio initiative of Suryadatta Group of Institutes, Pune, the MBA students were provided anexclusively different exposure towards the life of defense personnel in the Indian Army.
The MBA students of Suryadatta Group of Institutes,Pune,visited the Cantonment Board and Army's Cavallery Tank Museum at Ahmednagar. Nearly 250 students selected on the basis of their performance in academics were selected for this knowledge enhancement and awareness initiative of the institute.Army officers briefed the students about various army units & shared the stories of Indian army's bravery in various wars. Col (A) Manish Rai in his address to the students explained about opportunities available for PG students in the Army. He also explained the eligibility criteria for it. He explained about challenges & exciting working and life style of Army personnel. He emphatically told students how team work is essential at every step action in the army. His address was so stimulating & inspiring that many students enquired about the opening in the Indian Army /Navy / Air force after their P G in management & expressed their resolution of getting into Indian services for serving the nation.
On this occasion Prof. Dr. Sanjay B Chordiya, Founder President and Chairman, Suryadatta Group of Institutes, Pune Felicitated - Col (A) Manish Rai, Army's Cantonment Board, Ahmednagar and saluted the efforts of the defense personnel in safeguarding our Nation.
---
INDUSTRIAL VISIT TO TATA MOTORS CAR UNIT PLANT, Chikhali , Pune
Tata Motors Limited is an Indian multinational automotive manufacturing company headquartered in Mumbai, Maharashtra, India and a subsidiary of the Tata Group. Students went to TATA motors, CAR manufacturing unit at Chikhali, Pune on 8th Sept, 2015 from 8:30 am to 2:30 pm. 30 students visited an Industry. Students had a very beautiful presentation about the company and manufacturing process of Tata cars. Studetns got an opportunity to have a word with Mr. Anup kumar Jain, VP, TATA motors, CAR manufacturing unit at Chikhali, Pune. He briefed about the manufacturing as well as distribution channel of Tata Motors.
Objectives of Industrial Visit:
1.The concept of industrial visit is so beneficial to the students as it provides a deep understanding about the corporate world. 2.To get acquainted with the manufacturing process of Automobile sector. 3.To know the management, planning and resources allocation. 4.To study JIT, FIFO and LIFO concepts of supply chain and operations.
Following areas visited by the students:
1.Manufacturing area of Car parts. 2.Assembly areas of cars units. 3.Painting, welding and Quality control units in manufacturing areas of Cars. 4.Pantry Area 5.Dispatch Area
---
A group of Suryadatta students visited Goa for various industry visits.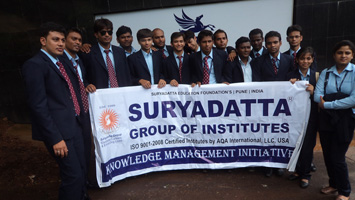 Pune University MBA students travelled for 5 Days to Goa, for visiting industries from varied sector..
Extensive Industry Institute Interaction is the USP of Suryadatta Group of Institutes, since its inception.
We believe in giving practical exposure to our students by way of plethora of Industry Visits on a regular basis. Students visit and study carious kinds of industry and make a pithy report followed by presentation. They are given exposure to the functions of HRD, Manufacturing, Marketing, IT, finance, Import & Export, Custom Clearance, Materials Management and Logistics.
| Sr. No. | Name of the Industry | Activities of the Organization | Students Learning |
| --- | --- | --- | --- |
| | Pai Kane Group of Industries - Power India Engineering Company at Tuem Industrial Estate, Goa. | manufacturing of Generator Sets from 5KVA to 3000KVA capacity | Students visited two plants : Control Panel Manufacturing and Outer body manufacturing. Students could physically observe the various processes such as blending , cutting, coloring, anti rust coating, control panels etc |
| | Hindustan Coca Cola Beverages Private Limited | Beverages | Students could observe entire manufacturing process of Coca Cola. |
| | United Breweries Limited – (Kingfisher) | Beverages Plant | Students were allowed to see the manufacturing process thoroughly. They could climb on the staircase (meant for the workers in the plant) to see how the bottling is done and how the conveyors are run throughout the plant. |
| | Titan Timeproducts Limited- | | Head operations explained the entire manufacturing process to students and students visited the plant in two groups. One group went to the manufacturing unit for watch circuits and one group went to the engineering services. Students could observe what is TPM and how it is implemented in industries. |
Learning- It was good learning opportunity for students. Different type of industries ie bottling, Watch manufacturers, Generator sets manufacturing wherein students could see how it is manufactured. For students it was first experience to see such variety of industries. They were very enthusiastic in learning and asking questions regarding the process , marketing , market share, then how finance department works etc.
During the visit, students were given an opportunity for fun & entertainment and they could also enjoy the boat cruise. Students pursuing PG courses who visited Goa, were of mix academic background such as Science, Engineering, Management etc.. It was a real field experience to the students to observe, learn and know more about various business houses across Goa. Such experiences will certainly help them in long run to co-relate various management concepts learned in classroom to the practical world of businesses. And therefore, we keep on arranging such industry tours for students.
Suryadatta's core team comprises senior professionals, each with the highest qualification in their respective fields, in addition to a minimum of 15 years of in-depth work experience in the corporate world as well as the academics. Along with sound academic inputs, Suryadatta also believes in giving practical exposure to its students. As a part of this initiative, Suryadatta regularly organizes industrial visits, seminars and workshops serving as a platform where senior executives from the corporate world share their invaluable experiences. We provide a vibrant atmosphere for Industry-Institute Interface in the form of Management Development Programmes, Consultancy, Applied Research, Internship tenures and Event Management.
We believe in giving practical exposure to our students by way of a plethora of Industry visits on a regular basis. Students visit and study various kinds of industry and make a report followed by a presentation. They are given exposure to the functions of HRD, Manufacturing, Marketing, IT, Finance, Import & Export, Custom Clearance, Materials Management and Logistics.
Suryadatta regularly organizes study tours as an indivisible part of the students curriculum. The tour focuses on providing practical exposure on industrial know-how, interaction with corporate leaders to learn about contemporary business philosophies as well as to give impetus to socially relevant issues through rallies organized specially for the purpose.
The tour also includes an adventure camp as an integral part. The highlight of the camp is the relaxation afforded to the students through a variety of entertainment programmes to help them rid their fatigue and cheer up to re-inforce their energies on return from the exciting but demanding tour schedule.
For Industrial visits, the choice of industry is made keeping in mind specialized sectors of interest to the students facilitating the pursuing of their projects/placements. This has immensely helped students to co-relate many aspects of management concepts and cope with real life situations in their future work life.